About Us
Level Up Mushrooms is a business owned by the Schultz family. It's a family-owned business in the truest sense of the word in that Adam, Angie, and even the four kids have some hand in the business (child labor is the best!). Our family is pictured to the right next to a giant redwood on a recent vacation. We also own another mushroom business, www.forestglory.com.
Level Up is a business concept based on a couple beliefs of ours. Primarily that mushrooms are an excellent source of medicinal and health benefits that have been used in almost all cultures for hundreds, if not thousands of years. Our other belief is that supplements have gotten just a little too ridiculous with their pushy sales tactics, fads, and crazy claims.
These two beliefs wrapped up in a shell formed Level Up Mushrooms. 100% mushrooms, real benefits, no hype.
Best Regards,

P.S. Okay, lots of hype, but the kind that's obviously meant to be funny and not taken so seriously.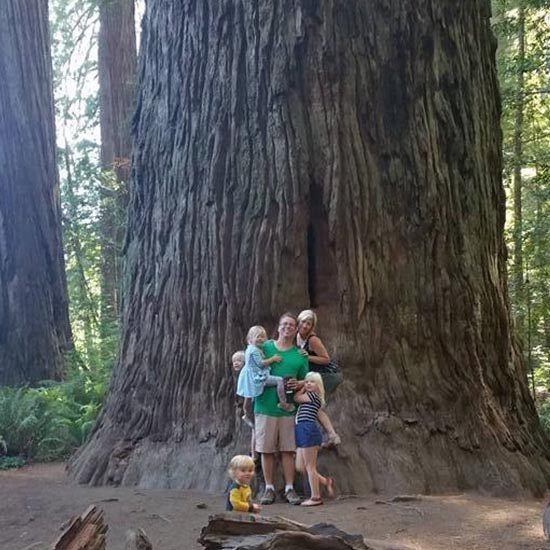 Our Heroes!
Angela Schultz is the other co-founder of Level Up Mushrooms. Her talents are usually used in keeping Adam in line so he doesn't break too much stuff. When she's not busy with that enormous job she handles quality control and human resources. She also has a ton of common sense and a great perspective on what the market may want. When not running Level Up she has six quarter horses and spends many weekends on the amateur horse show circuit. The family also has 3 dogs, 4 cats, 2 emus, 2 guinea pigs, 1 Chinchilla, 2 mini goats, and 14 chickens, oh yeah, and those 4 kids. She does have help from time to time, but Angie also spends most of her time making sure all these creatures are cared for and happy.
Adam Schultz is one of the cofounders of Level Up Mushrooms. He is a Certified Mushroom Expert by the State of Michigan. He's not very smart, he just knows quite a bit about mushrooms. Adam is of course into gaming and is a lifelong Warcraft 3 fan as well as many others. He also is a little bit of an athlete and at one point was really into playing hockey and lifting weights.  From time to time he has also been known to slap pieces around a chess board (nerd!). His remaining time is spent with his family and running Level Up Mushrooms. He is also product tester in chief and has a history with mushrooms going back to his teens.
Angela had been an employee and manager at our perfume company for almost two years before we convinced her to join the dark (and moldy) side over here at Level Up. Her primary responsibility is making sure special projects (think Area 51 but with mushrooms) get done, while also helping Dawn with day to day orders. She can never leave because she's also not afraid to tell Adam to shut up when necessary. Telling Adam to shut up is an important job at Level Up.  In her personal life, she's a tattoo sporting, knife-wielding, wife of a preacher man, so she's the perfect well-rounded person we love to have on our team. Her primary hobbies are photography and helping at the church.
Sabrina is our newest team player what what. She sent a direct message about two months after the company launched, and it was a 12 paragraph essay on why we needed to hire her and how we were failing at Instagram. It was complete with data, percentages, and market research. So Adam hired her on the spot and it's been all go since then. Sabrina has gradually taken on more tasks and now runs the Instagram page, the Twitter account, and answers most direct messages sent by customers on all platforms. In her private life she…. well none of us have ever met her so this picture might not even be Sabrina! She lives in Utah, her husband is a customer, and she has children. Or so she says… We do know she's very kind, so send us a DM if you have any questions and you'll find she's very helpful.
Dawn is our very first employee here at Level Up Mushrooms. She was working at our other company, www.forestglory.com and she was such a bright star we moved her here. Her duties include doing all the actual work while management takes credit and reaps the rewards. She is also responsible for taking the blame when things go wrong. In the few moments of freedom Dawn receives she really enjoys fishing. Rumor has it she caught a 13-inch perch that is way bigger than anything her father has ever caught, but she didn't say that. Dawn also loves mushrooms, she uses quite a bit of our product so we're pretty sure she didn't just lie and say that to get the job.